In association with Theatre503
Sunday 18th February 2018
Chippy & Scratch Shorts Night 2018 will showcase six short pieces of Theatre by emerging Welsh and Wales based playwrights.
This is a great opportunity for writers to showcase new work in progress, in front of an audience and panel of industry professionals. The winner will be decided by the panel on the night and will receive a Welsh wooden plaque and be crowned "Chippy & Scratch Best Playwright 2018".
Chippy Lane Productions Ltd. was founded in 2016 by Rebecca Jade Hammond a Cardiff born actor, writer and producer. Her primary mission is to champion Theatre work in and beyond Wales. Focusing a sense on Welsh revivals and New Welsh and Wales based writing.
#ChippyAndScratch
Cast & Creative
PLAYER ONE VS THE WORLD
Writer Kelly Jones 
Director Bryn Holding 
Cast Gabrielle Sheppard, Sophie Hughes
A NORMAL
Writer Kristian Phillips
Director Anna Poole
Cast Jordan Bernarde
LARPING AROUND
Writer Elizabeth Adlington
Director Tea Poldervaart
Cast Ella Gonzales, Sarah John, Ross Ford 
BLACK & WHITE – *WINNER
Writer Greg Glover
Director Laura Jasper
Cast Mali Ann Ree, Alex Griffin-Griffiths
DIG TWO GRAVES
Writer Mark Jones
Director Becca Lidstone
Cast Toby Vaughan, Kate Elis 
CHIPS
Writer / Performer Ashna Rabheru 
Director Clare Sturges
Host Andrew David
Producer Rebecca Jade Hammond 
Readers: Jacob Hodgkinson, Chris Harris, Rebecca Jade Hammond
Industry Panel Chelsey Gillard (Director), Andrew Keatley (Playwright), David Ralf (Producer, The Bunker), Dan Jones (Artistic Director, The Other Room)
Read Theatre Wales' Article on the evening…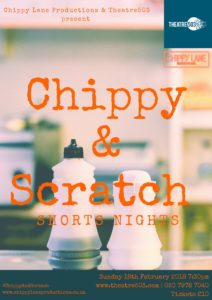 Reviews
"There's something healthy-feeling about a company that celebrates nationality whilst not being insular. Yes, they're proud to be Welsh, but they're also Londoners." Exeunt
"The writing talent on show was impressive with a number of award winning writes presenting new work." West End Wilma
"As well as showcasing new writing and the talent of the performers and directors, what the night also offered was a chance to network and build a community." GetTheChanceWales
"I'm no critic. Just thanks for a great night out!" Audience Member