A feast of Welsh writing and Welsh stories over a few pints of Brains Beer.
Come and enjoy the talents of seven selected Welsh Playwrights "Work in Progress", as we gather together for an evening of entertainment that promises laughter, tears and inspiration. 
Chippy Lane Productions yn cyflwyno… Gwledd o ysgrifennu a straeon Cymreig, a pheint neu ddau o gwrw Brains i dorri syched. Dewch i fwynhau detholiad o ddeunydd newydd ar y gweill gan ddramodwyr Cymraeg yn y noson hon llawn chwerthin, dagrau ac ysbrydoliaeth.
#ChippyAndScratch
Monday 10th October 2016
Support in kind provided by The London Welsh Centre
Cast & Creative

Meet Cal 
Writer Rhys Warrington
Director Francesca Goodridge
Cast Abigail Fitzgerald
Mutter
Writer Jon Berry
Director Christopher H. Thorpe
Cast Catherine Barrett, Graham Jones
Going Back to Ellen Street
Writer Catrin Fflur Huws
Director Michael Gilhooly
Cast Sam Harding
Him and I
Writer Melanie Stevens
Director Becca Lidstone
Cast Melanie Stevens
Marching as to War
Writer Viv Edwards
Director Barnaby Hatch
Cast John McLear, Julia Winwood, Naomi Morrison, Carlton Venn, Berwyn Pearce
That Old Bitch Mrs Jones
Writer Ruth Majeed
Director Racquel King
Cast Lisa Zahra, Branwen Summers, Sean Rhys James
Stranger
Writer Chris Harris
Director Niamh Handley- Vaughan
Cast Anna Clarke, Mark Matthews
Host Andrew David
Producer & Reader Rebecca Jade Hammond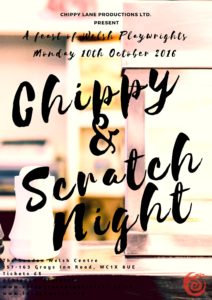 Twitter Response
Brilliant night @LondonWelshCCLL performing #MeetCal for #ChippyandScratch @chippylaneprod !! Brilliant writing and amazing support! ❤️

— Abigail Fitzgerald (@FitzgeraldAbi) October 10, 2016
Wonderful evening @chippylaneprod #ChippyAndScratch. Thanks to the packed out audience for the support and congrats to all involved. #proud

— Andrew David (@andydavidactor) October 10, 2016
Really enjoyed @chippylaneprod #ChippyAndScratch night – very engaging & great to watch work written & performed by Welshies! Da Iawn Pawb!

— Emma-Jayne Morgan (@EmmaJayne_91) October 11, 2016
Amazing turn out last night, gr8 to be in a room full of such talented creatives & a supportive audience@chippylaneprod #ChippyAndScratch

— Christopher Thorpe (@thorpe07) October 11, 2016
Cracking night @LondonWelshCCLL for #ChippyAndScratch @chippylaneprod! High quality stuff. @MelanieFStevens nailed it.

— Oliver Morgan-Thomas (@Olly_M_Thomas) October 11, 2016
Enjoyed an incredible evening of Welsh new writing with the glorious @chippylaneprod, SO many brilliant new voices! #ChippyAndScratch

— Ishani Thorpe (@ishani_basu) October 10, 2016
https://twitter.com/Minghowriter/status/785628114500083713

I'm no critic. Just thanks for a great night out. All the best for the future. – Audience Member