A feast of Welsh writing and Welsh stories.
Following on from the wildly successful Chippy & Scratch Night in June at The London Welsh Centre, Chippy Lane brings four pieces of Welsh Theatre in progress. As voted for by the London Welsh audience, let's gather together for an evening of entertainment that promises laughter, tears and inspiration.
Yn dilyn llwyddiant Noson Chippy & Scratch nôl ym mis Mehefin yng Nghanolfan Cymry Llundain, mae Chippy Lane yn cyflwyno pedwar darn o theatr ar y gweill. Mae'r darnau wedi eu dewis gan gynulleidfa Cymry Llundain, felly dewch ynghyd am noson yn llawn chwerthin, dagrau ac ysbrydolidaeth.
#ChippyAndScratch #DoesTheDiff
Tuesday 18th July 2017 
Support in kind provided by Chapter, Cardiff.
Cast & Creative
Cardiff Boy   – WINNER
Writer Kevin Jones
Director Matthew Holmquist
Cast Jack Hammett
YOU GOTTA GO THERE TO COME BACK
Writer & Director Poppy Corbett
Cast Michelle Luther
Outside Blisters
Writer Ruth Majeed
Director Becca Lidstone
Cast Rebecca Ormrod, Roanna Lewis, Mica Williams
Tiny Mad Animals
Writer Neil Bebber
Director Jac Ifan Moore
Cast Tobias Weatherburn, Joseph Tweedale
Hosts: Andrew David (English) & Chris Harris (Cymraeg)
Producer Rebecca Jade Hammond
Readers Luke Hereford, Rebecca Jade Hammond
Theatre Technician Eugene Capper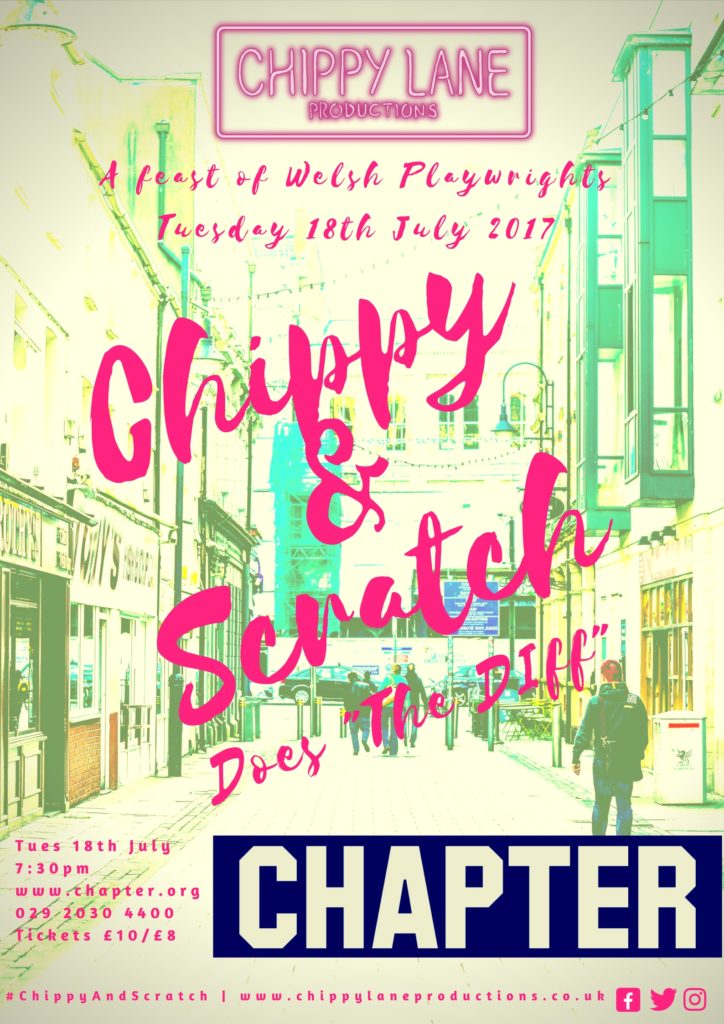 Reviews
"So much can come from collaboration and nurturing relationships and so far Chippy Lane has benefited greatly from people believing in its ethos and vision."
Arts Scene in Wales
"There's something healthy-feeling about a company that celebrates nationality whilst not being insular. Yes, they're proud to be Welsh, but they're also Londoners."
Exeunt
"It's important to recognise that it is grass roots projects like this that help genuinely create a thriving arts scene."
Wales Arts Review
"Their support of new writers in the short time they've been a company is a marker of commitment to supporting new artists in Wales, and these scratch nights have been a great opportunity to see that work both in London and on 'home' turf."
GetTheChanceWales