A feast of Welsh writing and Welsh stories over a few pints of Brains Beer.
Following on from the wildly successful Scratch Night in October 2016 why not join us again and sample the talents of a selection of Welsh Playwrights "Work in Progress". As we gather together for an evening of entertainment that promises laughter, tears and inspiration.
Gwledd o ysgrifennu Cymreig a storïau Cymraeg dros beint. Yn dilyn ein Noson Sgratsh lwyddiannus yn yr Hydref, beth am ymuno â ni eto i fwynhau detholiad o "Waith ar y Gweill" gan Ddramodwyr Cymreig? Dyma i chi leisiau newydd, a noson sy'n addo chwerthin, dagrau ac ysbrydoliaeth.
#ChippyAndScratch
Tuesday 27th June 2017 
Support in kind provided by The London Welsh Centre. 
Cast & Creative 
Party Like It's 1985
Writer Emily Garside
Director Luke Hereford
Cast Toby Vaughan, Melissa Bayern, Delme Thomas 
Writer Kevin Jones
Director Matthew Holmquist
Cast Jack Hammett
Tiny Mad Animals
Writer Neil Bebber
Director Jac Ifan Moore
Cast Tobias Weatherburn, Chris Hoskins
When Opportunity Knocks
Writer Melanie Stevens
Director Christopher H. Thorpe
Cast Jack DeVos, Melanie Stevens
DIBYNIAETH
Writer Jacob Hodgkinson
Director Michael Gilhooly
Cast Andrew David, John McLear, Charlotte Griffiths
Outside Blisters
Writer Ruth Majeed
Director Becca Lidstone
Cast Rebecca Ormrod, Roanna Lewis, Mica Williams
Loving You in a Single Brain Cell
Writer Chris Harris
Director Niamh Handley-Vaughan
Cast Rob Peacock, Suzy Gill
YOU GOTTA GO THERE TO COME BACK
Writer & Director Poppy Corbett
Cast Michelle Luther
Hosts Andrew David (English)
Producer Becca Hammond
Readers Becca Hammond, Luke Hereford
#ChippyAndScratch
Support in kind by The London Welsh Centre.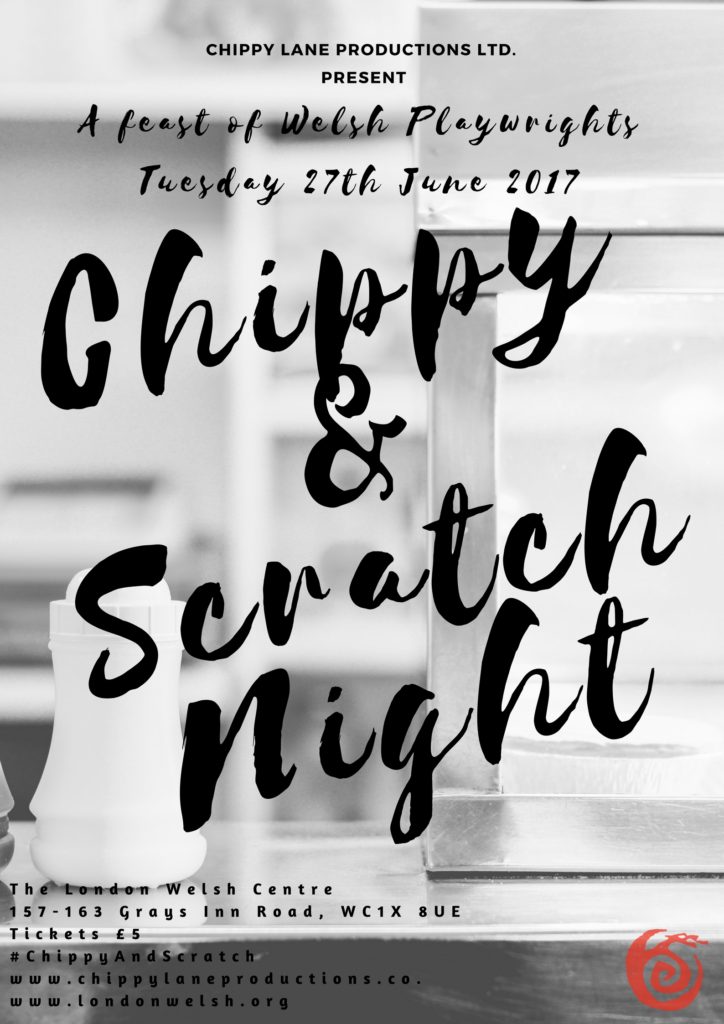 Reviews
"The writing talent on show was impressive with a number of award-winning writers presenting new work. While all the plays have Welsh roots, they have something to say to a much wider audience."
West End Wilma
"As well as showcasing the writing, and the talent of the performers and directors involved, what the night also offered was a chance to yes, network, but also community build."
GetTheChanceWales