Chippy Lane Productions Ltd. was founded in 2016 by Rebecca Jade Hammond, a Cardiff born actor, writer and producer.
Her primary mission is to promote Welsh Theatre to audiences in and beyond Wales. She aims to achieve this by producing work across both the live and recorded arts.
Chippy Lane Productions Ltd. will also champion Equality and Diversity in the Arts across the UK. Rebecca, as an activist and committee member for charity Act For Change, hopes to raise awareness of these important issues.
"So many of our most celebrated makers and writers came from the people and landscapes of the Celts. The Welsh now and throughout history have given us voices, songs, stories, poets and thinkers that have proved globally important (and shall still). Promoting and supporting this cultural heritage makes for a more diverse and therefore richer arts ecology in Britain."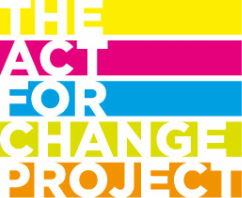 Act For Change 2016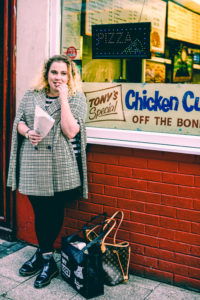 Artistic Director | Becca Hammond
Born and raised in Cardiff.
Education: Royal Central School of Speech & Drama & Bath Spa University.
Producing: In 2016 Rebecca founded  Chippy Lane Productions with a focus on producing Welsh Theatre to audiences in and beyond Wales.
The first project by the company was "Love Steals Us From Loneliness" by James Tait Black Drama Award Winner 2016 – Gary Owen. The production premiered in London at The Camden People's Theatre and transferred to Cardiff's Chapter Arts, receiving four and five star reviews from critics.
Rebecca produces an annual Chippy & Scratch Night to showcase new writing from emerging Welsh playwrights at The London Welsh Centre. The next Scratch Night will be produced in Summer 2017 in London and Cardiff at Chapter.
In 2016 Rebecca was selected to produce an event for The Bloomsbury Literary Festival,"An Evening of Welsh Playwrights". For this special event Rebecca selected the work of noted Welsh playwrights Tim Price and Brad Birch and engaged directors Chelsey Gillard and Izzy Rabey who work for The Sherman Theatre and The Other Room Cardiff.
Rebecca is Executive Producer of Web comedy "MidnightMiracle" on DailyMotion for Wolfpack Productions Ltd. the quirky comedy currently has over  80,000 views and has been nominated / won various International awards on the Web Fest circuit.
Writing: Rebecca is the co-creator and co-writer of "MidnightMiracle", the pilot episode was shortlisted at Raindance Web Festival 2015.
Rebecca is currently in research and development for Chippy Lane's next project for 2018 "Glas".
Theatre: Rebecca has performed at The Bristol Old Vic, Drill Hall, The Egg Theatre Bath, Ustinov Studio, Battersea Arts Centre, The Globe Cardiff, Sherman Theatre, Chapter Arts, Camden People's Theatre, New Theatre Cardiff and Stratford East Theatre Royal.
In 2015 Rebecca was a Triforce MonologueSlam finalist in Cardiff and London.
Television / Film: Rebecca was a regular character in Series 2 and 3 of Sky 1's Hit Comedy "Trollied". Most recently she has played the lead character in Web Comedy "MidnightMiracle" which was shortlisted at Raindance Web Fest 2015 and also starred alongside Tony Way and Esther Smith in "Confection", as short film by Ed Rigg.
Lecturing: Between 2010-2016 Rebecca was a Lecturer in Theatre History at Bath Spa University. In 2013 she successfully completed her Certificate in Postgraduate Learning at Higher Education and became a Fellow of the Higher Education Academy.
Favourite place in Wales: The Garth Mountain. Always a cathartic and exhilarating climb.
Favourite thing about Caroline Street (Chippy Lane): 3am before the hangover kicks in. Shoes off, tired feet from dancing at Molokos (RIP), eating chips and curry sauce from Tony's.
Follow on Twitter: @beccajhammond
Rebecca is a committee member for charity Act For Change who champion diversity and Equality across the Live and Recorded Arts. www.act-for-change.com
---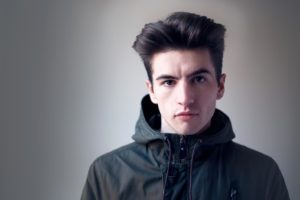 Creative Associate| Rhys Warrington
Raised in Carmarthen, South West Wales.
Education: The Royal Conservatoire of Scotland. Rhys was also a member of the WGYTC and the National Youth Theatre of Wales.
Writing: Rhys is currently working on Chippy Lane's next project for 2018 "Glas"- which will be his first full-length play.  
Theatre: 'WiLd!' (Tutti Frutti/iPAY USA) 'Love Steals us from Loneliness' (Chippy Lane Productions) 'A Midsummer Night's Dream' (Pontardawe Arts Centre/Welsh Tour) 'Antigone' (GradCo) 'Recreation' (Arcola / PlayWROUGHT) 'How The Other Half Loves' (Torch Theatre) 'Praxis Makes Perfect' (NTW) and 'Great Expectations' (Vaudeville Theatre / West End).
Favourite place in Wales: A tough one, but probably Ferryside looking over to Llansteffan or vice-versa.
Favourite thing about Caroline Street (the real chippy lane): Not yet had the pleasure of visiting.
Follow on Twitter: @RhysWarrington